Wrong Japanese Dishes
Keath were tired of working and wanted to go out for dinner. So we decided to explore the little town of Morgan Hill and found a Japanese restaurant. Actually, we had choices of Pizza, Vietnamese, Indian or Japanese. Take a look at Pizza parlor. – Not in a mood. Vietnamese? Hhhmmm. Maybe. Oh, wait! It's hard to see it from outside (because both Pizza and Vietnamese restaurant has it's own main front door), these are same restaurant inside. Only entrance is separated. Arrhh… No thank you. How about Indian restaurant? Looks nice sit-down restaurant, besides coconut curry sounds good somehow tonight. But, Japanese restaurant has salted mackerel! My favorite! OK, we go in.

They have sushi bar in the middle of the restaurant with toy train keeps going around the bar top to carry various sushi, just like revolving sushi. Train goes around and around forever… Seems nobody touched those sushi for a while. Eating sushi with raw fish at a sushi bar I've never been always makes me nervous. Why? Just because I cannot trust the quality of fish and sushi. Como on! I'm from Japan. I'm used to eat sushi with market fresh fish.

Anyway, Keath felt the same atmosphere. – No fresh fish here. We decided to order something non-sushi items. Salted Mackerel for me, Ten-zaru (Tempura and cold buckwheat noodle called soba – pronounce so-baa). My Mackerel was little bit greasy but OK. Keath's tempura was OK even they served only 1 shrimp and veggies instead of 3 shrimps with veggies like picture on the menu shown. That's not a big deal. The true problem was, when they brought the dipping sauce for Soba and Keath made funny face as he tasted the sauce. His first reaction – "waaaaay toooo sweeeeet". I thought he's kidding. Sweet soba dipping sauce? Never heard about it. Let me try --- Yuck!!! It's sweet! Almost taste like Teriyaki sauce thinned with some water. This is not right. We immediately asked the server to check the dipping sauce. It might be some confusion and they brought different sauce which meant to go to other customer. Could be possible.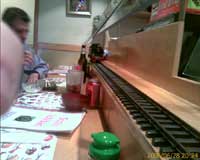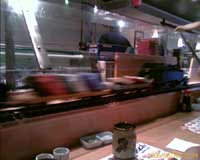 The answer is "this is the right dipping sauce according to the chef". Really? Maybe they are not familiar with Soba. Why don't we ask an old Asian (Japanese looking) woman again. She looked surprised when we explained the sauce is way too sweet. Disappear behind the curtain to the kitchen. We waited and waited. Finally she brought other dipping sauce. Keath looked upset a little bit after tasting. Told the woman it's OK. Guess what. This time, the dipping sauce became really sour. It must be Ponzu with water. Poor Keath. By the time, he lost appetite and disappointed very deep as Ten-zaru is his top 5 favorite dish. This is really wrong. Including chef, they must have no idea what Ten-zaru is. Due to serious misunderstanding and I wanted to warn all the customers in the restaurant "This is not real Japanese!! It's wrong Japanese!!" with a Big Red Card.

We promised ourselves to NOT to come back to the restaurant and decided to spill words to friends to avoid further misunderstanding of what Japanese Ten-zaru is. Never ever eat at Sushi Ichiban in Morgan Hill!